We are sponsors of Nourishing Our Children, a project of the Weston A. Price Foundation. In collaboration with the Foundation, they've created educational materials designed for one's own self education and/or to teach to an audience. They've just launched a tax day promotion that will run through April 17, 2015! They are offering 80% off of their usual donation request! This significant reduction in their usual donation request will not be offered again this year.

They are also offering 2 bundles, valued at $140.00, for free as a giveaway on April 15, 2015!

Take a look: http://bit.ly/taxdaypromotion
Book Give Away - "Outsmarting Autism - The Ultimate Guide to Maganement, Healing, and Prevention," by Patricia S. Lemer
BOOK GIVE AWAY 5 AVAILABLE
"Outsmarting Autism - The Ultimate Guide to Management, Healing, and Prevention," by Patricia S. Lemer.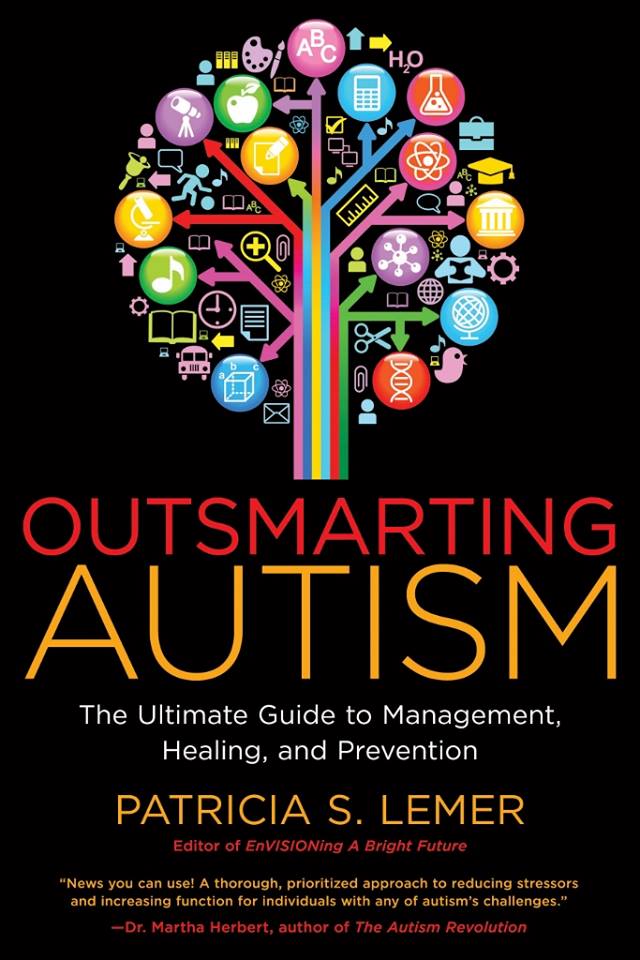 Whether you are new to the world of autism, are familiar with treatment options, or are a veteran who has "been there, done that," this book is for you! Discoveries about possible etiologies and promising therapies are emerging so quickly that you are sure to learn something new. Outsmarting Autism guides you step-by-step with practical information from a variety of fields that families, specialists, and educators can put to use immediately.

STEP 1: Take Away the Bad Stuff, and Add Back the Good Stuff
Clean up the environment • Eat, sleep, and drink smarter
Boost the immune system • Balance hormones • Detoxify

STEP 2: Correct Foundational Issues
Remove structural impediments • Integrate reflexes

STEP 3: Address Sensory Problems
Improve sensory processing • Develop vision

STEP 4: Focus on Communicating, Interacting, and Learning
Build language • Concentrate on social-emotional skills
Learn to read, write, and calculate • Use technology

STEP 5: Plan for the Future
Transition to independence • Prevent autism from conception
HOW TO WIN
1) Place an order at www.greenpasture.org, in the customer comments area (last page before submitting your order) please enter, "I would like to win "Outsmarting Autism - The Ultimate Guide to Management, Healing, and Prevention," by Patricia S. Lemer.
OR
Mail in your entry to Green Pasture Products PO Box 486 O'Neill, NE 68763. All mail in entries must be received before December 30th, 2014 to be eligable to win. Please include the following statement, "I would like to win "Outsmarting Autism - The Ultimate Guide to Management, Healing, and Prevention," by Patricia S. Lemer. Also please include you name and physical shipping address.

2) The drawing will begin December 19th and will end December 30th, 2014. We will randomly select one winner every other day. If there are remaining books after Decmeber 30th, 2014, we will draw from those who previously requested the book but did not win.
Finally, Green Pasture Products Affiliate Wholesale
New Affiliate Opportunity
Over the years we have been asked to offer an affiliate program wholesale arrangement but as a manufacturing company we cannot offer this type of sales program.
I was approached earlier this wk by one of our wholesale customers who can offer our products through an affiliate approach.
This is a wonderful partnership opportunity. Dr. Ron's Ultra Pure offers a range of nutritional products and natural cosmetic products plus the full range of Green Pasture Products.
To inquire on a affiliate wholesale application please contact Kevin at Dr. Ron's Ultra Pure 877-472-8701 drrons.com.
Win an Alaskan Adventure for Two
Green Pasture Products works with sustainable family farmers and fishermen to deliver high quality nutrient-dense products for you and your family's health.
We've noticed the effects of government overregulation concerning our access to quality foods, and so when the Weston A. Price Foundation helped to start the Farm-to-Consumer Legal Defense Fund (FTCLDF), we supported them right from the beginning with our food donations and by sponsoring this exciting annual
Alaska
Fishing Expedition raffle. This will be our 8th trip!
There are no dates set for this trip as we will work around the winner's schedule. We will fly the winner and guest to Anchorage (anywhere from the continental USA) where they will get to see two of our favorite places in
Alaska,
Homer and Seldovia, and then go on one full or two half-day fishing expedition(s). To top it off, Dave Wetzel, Green Pasture Product's co-owner, will invite the winner and guest out to eat one night at his favorite restaurant.
We hope you'll support the FTCLDF and purchase lots of
raffle
tickets for your chance to visit
Alaska
next summer:
www.bit.ly/alaska-raffle
2013 Annual Holiday Sale...Starts Now... We are closed Dec 24- Jan 1. Internet Sale only
2013 Annual Holiday Sale...Starts Now... We are closed Dec 24- Jan 1. This is an internet exclusive sale.
We are offering all of our new Blue Ice Infused 13.5 ounce (16 ounce jar) on sale. Regular Price is $35-38.00 range. Sales price is $22.00. Cinnamon, Carob Banana, Caramel, Non-Flavored.
This sale is good through January 1st only and must be entered on line through our web site exclusively. Offer is only good during the period that starts now through the taking down of the sale at the end of January 1st 2014. We are not open during this period and the sale prices can not be extended beyond January 1st.
This sale is also offered to all wholesale customers. Log into your wholesale account for details. This is a great time to try the new products.
Merry Christmas and Happy New Year
Dave